.



Previous Section nn: Title
Previous Chapter nn.x : Title
Section 28 : Isaac James - Senior and Junior
Chapter 28.A
Isaac James the elder
Isaac James was the son of Thomas Brush 'the much married' and his third wife Sarah Martin. He was born on 9 November 1819 and baptised on 3 June 1821 at St Luke's church in Chelsea.
At the 1841 census he is living at Commercial Road in Peckham ( which is then described as a hamlet and part of the parish of St Giles Camberwell in the borough of Lambeth) with his father Thomas and step-brother Sidney Cave.
On Christmas day 1845 he marries Harriett Hale at St George's church in Camberwell. https://www.ancestry.co.uk/family-tree/person/tree/31928139/person/410147039053/facts says HH born Sherborne in Hampshire c1818 Witnesses to his marriage appear to be father Thomas and his fourth wife, Isaac's stepmother,Elizabeth.
Their first son Thomas Martin BRUSH is born in 1851. - became a carpenter 1851 census Camberwell By 1854 they have moved to Hertfordshire - probably to Leavesden Farm where they will appear in the 1861 census. Daughter Elizabeth is baptised 1854, son Isaac (later to be identifed as Isaac James (jnr) in 1856 and Harriett in 1859, all at Watford. These days Leavesden is really just a suburb of Watford though at the time it was a ditinct place. , which is . at Watford, son Why Leavesden? It had been the home and workplace of his uncle Isaac (father thomas's brother) and aunt Elizabeth (mother Sarah's sister we believe) At 1881 he is living in Lambeth Dies 25 Septemnber 1882 in Surrey Isaac BRUSH (Gedcom 2329) was born in 1855 at Leavesden in Hertfordshire, one of four children born to Isaac James BRUSH and Harriett (nee HALE).
At the 1871 census, age 15, he has gone into domestic service and is a Page at 'Newlands' at Tooting Common in the household of John Kennealy HARPER, a wine merchant, his wife and four sons. They had a resident staff of 8 - plus possibly others in separate houses next on the list. If you want to see a photo of Newlands (from a few decades later) you can look here, but it is spoilt by a logo watermark. It seems the London Boroughs have collections of archive photographs. Instead of just making them available to the public they have set up a company which will sell you an expensive print. I'm not impressed. Remember these are photos on which the copyright has long expired.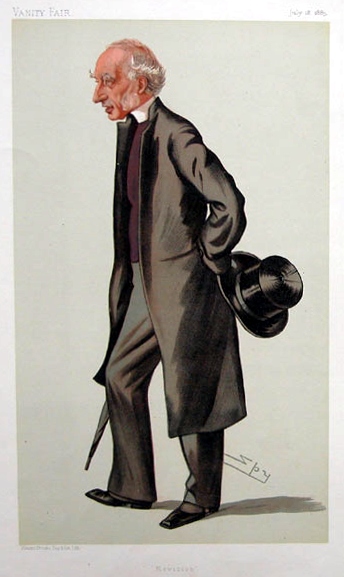 At the 1881 census he appears to be a footman at the Bishops Palace of Charley John Ellicott, Bishop of Gloucester & Bristol - with his name given as James. Something which dad spotted many years ago without the benefit of the internet. Dad's comment on this was that there were two possibilities. One that his real name was Isaac James ( as his father had been) or that he adopted a 'Professional' name of James as Isaac might be unacceptable in the custom at the time.
Charles John Ellicott (1819-1905) was a distinguished English Christian theologian, academic and churchman. He briefly served as Dean of Exeter, then Bishop of the sees of Gloucester and Bristol. (from Wikipedia )
At 1891 census age 35 he is the Butler to Mrs Maria A Tanquery at Walton on the Hill in Surrey. ( in 1871 at Bloomsbury - staff include Keens) The following line in the census is Emily BRUSH, cook age 39. Her place of birth is given as Addington Surrey. She appears from GRO marriage index to be Emily nee Pallmerine who in 1881 is still living with her parents but has occupation as Cook
The property is a substantial (3,540sqft) four bedroom family house comprising the centre portion of this period mansion believed to have been built in the late 19th Century. Hedgecroft was the country estate of Baronet Sir George Sutton which was later divided into five separate homes after the war.
By the 1901 census the couple had left service and moved to Shoreham in the north west of Kent, only about 8 miles east of new addington where Emily came from. He had become a RuralPostman. They lived at Ricketts Folly in Halstead Lane about which I can find nothing.
At the 1911 census they have moved again. He is now a jobbing gardener, living at 5 Vicarage Road, Camberwell, a property of 2 rooms. The census sheet confirms that Isaac and Emily had no children.
He dies in 1936 in the Wandsworth registration district.



The BRUSH Families of the British Isles
&nbsp &nbsp&nbsp &nbsp © David Brush 2006 to 2020


The BRUSH Families
of the British Isles
© David Brush 2006 to 2020